Discover more from Remote View
Looking back to the future through insight and critical fiction
After working through a few snags on the build and adding a few extra blowers in to the distributor, Tony Jabony did his first tests on prototype V02 without trying to optimise it. His notes are below, due to some background music, some clips had to be curtailed or could not be uploaded to YouTube - this will be avoided in the future.
I think you'll agree the device looks awesome and Tony has achieved a big step forward from the first prototype, even without any attempts to optimise it to find potential resonance. Thanks Tony, the fabrication team and sponsor.
---
Tony Jabony's (AKA Robb) Notes:
With the following unoptimised parameters,
Whistle aperture wide open: ~12mm
Exhaust height: ~ 100mm down into the hexe
Exhaust aperture: 80mm 
the following experiments were run
Test 01
Aluminium cans - We definitely got more destruction going on with the higher CFMs
Test 06
Aluminium cans - Tried to film it from the bottom and got some nice footage. Lots of damage and small pieces. 
Realtime video:
Slow motion video:
Aftermath photos: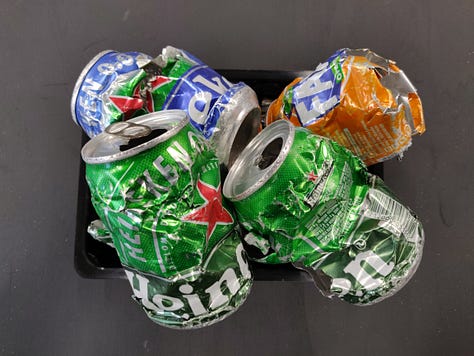 Test 02
Glass bottle - It held up for a while, then it disintegrated in an instant into smaller pieces which then tumbled into small round balls and even dust
Test 03
Glass bottle 2 - I took of the label, since that held the first bottle together, large chunk fell out quite early but there was a lot of very very fine glittering dust in, underneath and around the windhexe after these 2 tests.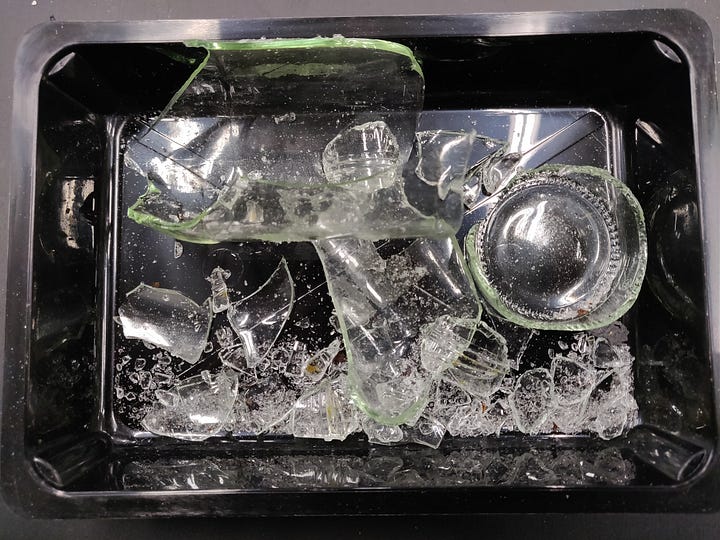 I took some quick infrared measurements, The air distributes the heat quite evenly and it gets pretty warm in there quite fast. It averaged around 38 to 40 degrees Celsius but it does get higher when running for longer amounts of time. 
I changed the whistle aperture to ~ 3mm This actually did not impaired the airflow as far as I could tell.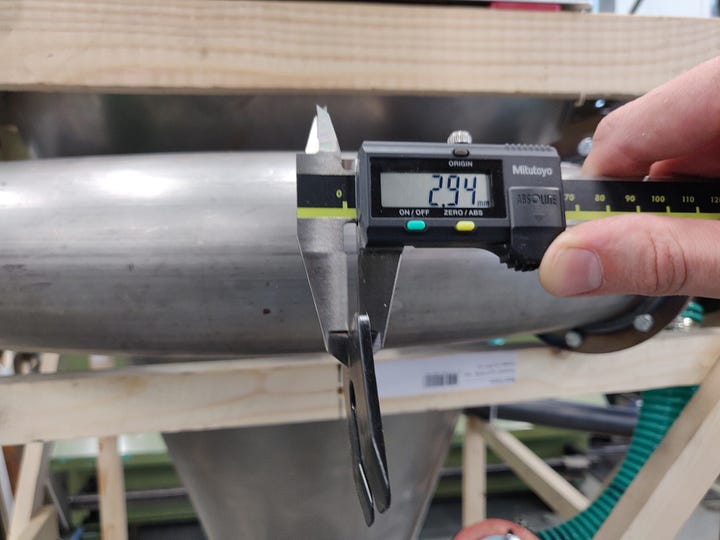 Test 04
Rice crackers - These mostly  immediately disintegrated upon entering the windhexe into a fine powder. The bits remaining turned into small spheres. The workshop guys saw a puff of dust coming out of the top exhaust while I was filming. Airflow inside of the windhexe becomes fairly visible
Test 05
Plastic bottle - No disintegration, but a bunch of damage on the cap and convex sides of the bottle. 
Test 07 & test 08
Flint rock / Chaga - The flint rock was to heavy and aerodynamic for the hexe. Gravity claimed it back quite easliy. The Chaga mushroom (which is mostly cellulose) is also quite impervious to the vortex. It held up quite firmly with no bits or bobs falling of it at all.