Discover more from Remote View
Looking back to the future through insight and critical fiction
Rencontres Galactiques
A Journey Review
A review of a fascinating journey into and out of another world
LIVESTREAM Sunday 30 July 2023 @ 22:00
Here is Elena Dannan's closing 'connection'
Here a machine assisted translation I made of the 'connection'
As I said in my live stream, the comments from 'Thor Han' in italics could apply to anyone feeling a little bit special in the room. (Apparently, Valiant Thor, also called Commander Val, landed his ship on a morning of March 1957 in the. US state of Virginia, where he met President Dwight Eisenhower.)
[ELENA:] Well, here we are at that moment where we close these two incredible days, but as you already know, there is no end, only cycles. And endings are beginnings.

We have brought messages here, From Heaven to Earth, from Earth to Heaven, and now it is up to you to bring these messages to Humanity.

And I wouldn't be the Federation emissary if I didn't have a message for you from the Federation right now, because... Because Thor Han logged on a few minutes ago, and he wants to talk.

(audience members expressing their gratitude)

So my implant clicked right in the middle of Dan [Winter]'s speech and he's waiting. So it's been pulsing at me since earlier: "Is that it? That's it?" So there you go, I don't know what he's going to say, I'll pass it on to you.

I repeat what I'm about to hear, Ok. I don't channel, I don't channel, I don't recommend that. And it's not worth it, because it's a voice that I hear through this implant, like a Walkie-Talkie. Ok, you can go... in French. Because I don't translate.

[THOR HAN SPEAKS:] Tell them they are welcome in this new era that we have prepared for them. You know it well. Some have awakened to this knowledge, to this knowledge. We have watched over them for millennia and now they remember. Our job is to help them remember who they are. Do not be afraid, you have already traveled the path. If your sufferings have brought you here, if your joys have brought you here, it is because here is the threshold of a new moment in your life. And we send you all our blessings, because you have done a great job. It hasn't always been easy, we know that. You know, it wasn't easy for us either. But our joy and our driving force is to see that you have exceeded our expectations. We are very proud of you.

[ELENA:] Surprise?... He's got a surprise! I don't know what will happen.
Someone... he connects me with someone... Ok, I have to sit down... Ea! (Enki)

[EA SPEAKS:] I speak their language. I've always spoken the language of their hearts. My love for them is endless, shining in the light of billions of galaxies. I crossed time, I crossed space. Wherever I went, I saw no greater wonder than these beings of Ki (Anunnaki name for Earth). Tell them it's time they realize they are waking up, because they are our greatest pride. You came to tell them this message. I came back after thousands of years to be there when they wake up, when my children are finally free. Now it's time for them to know. I love them and they don't know it. I am here, I will accompany them too. Tell them that they have a strength that is not equaled. It is the strength of their heart. Because the human heart of Ki, of the children of Ki, is one of the few hearts, a particular vortex, which can connect to creation, to the Source of all consciousness. Now they know it. Tell them I love them and that I'm here.

[ELENA:] There you go, Thor Han logged off. It's going to take me a while to rebalance my frequency. Well, that was a surprise! Well here it is, it's always moving for me, a privilege, It's up to you now to pass on the message! And in love, always in love! The frequency of love is the frequency of creation. The frequency of love, really the formula of the frequency of love, in fact love is a frequency and that translates into an emotion when it incorporates a human body. This frequency is the creative key. So in love you create and you unite. We have been divided, enough divided, and now we have understood that united, we walk towards the future. So…

[CHRIS ESSONNE:] Huge thanks to Elena, Thor Han and Ea, really what a surprise! It is enormous!
Potentially the most consequential conference for me since the Cold Nuclear Transmutation and Ball Lightning meeting in Sochi, Russia, 2018
Shortly after Yin Gazda introduced me to Birgitte (centre of sofa below) and she told me her of her deep connections to the discoverer of the Bosnian Pyramid of the Sun, I knew why I had to come to the conference. Building a relationship with her, Dan and his wonderful wife Valerie was special and I hope will lead to great things including, a potentially seminal and definitive experiment.
The bonus came with the introduction of the representative of the EU, his request that I consider doing workshops for EU dignitaries. Let's see if that can happen.
I met exactly and only the people I had to meet during this trip. Very happy camper.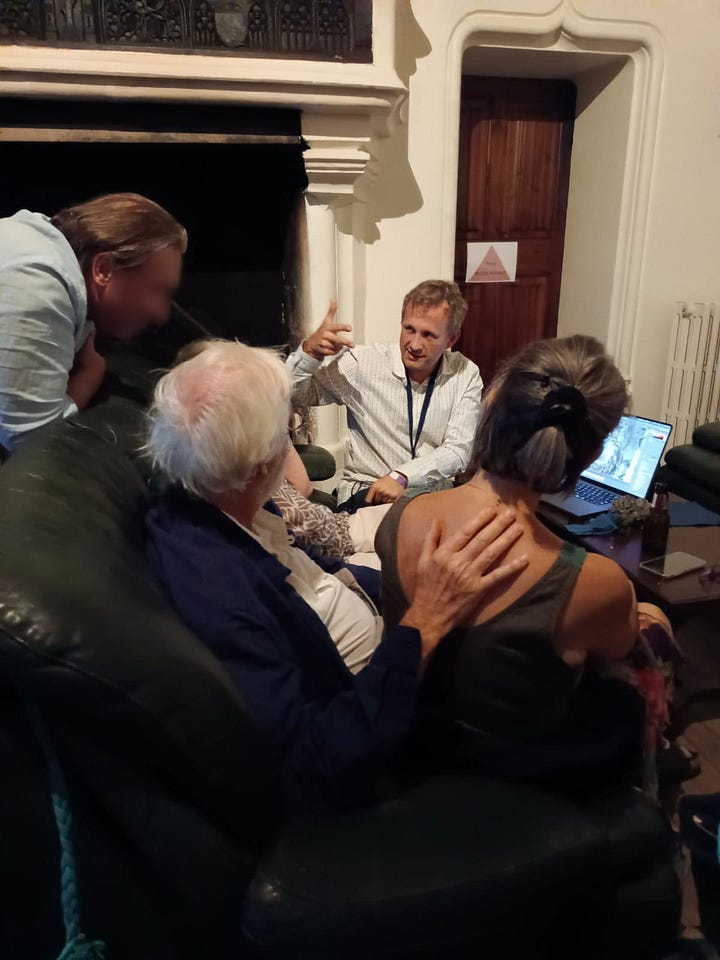 Following the conference, Birgitte, the portrait artist, sent over this image to Yin Gazda, which she thought suggested I had lived before. On further investigation I found it was in the British Royal Collection.
Remote View is a reader-supported publication. To receive new posts and support my work, consider becoming a free or paid subscriber.